Dynamics of Mesoscale Currents

Mesoscale (spatial scales of 10-100km) currents are generated and influenced by the large-scale (hundreds and thousands of kilometers) flows. Understanding of the importance of the mesoscale for large-scale dynamics remains a long-standing challenge in Physical Oceanography. For the past decade, our group has been studying a tendency of mesoscale eddies to induce persistent, nearly zonal flows in the oceans. Similar flows are clearly visible in the atmospheres of giant planets (e.g. Jupiter, Saturn) as zonal jets, and are known to exist in plasma flows.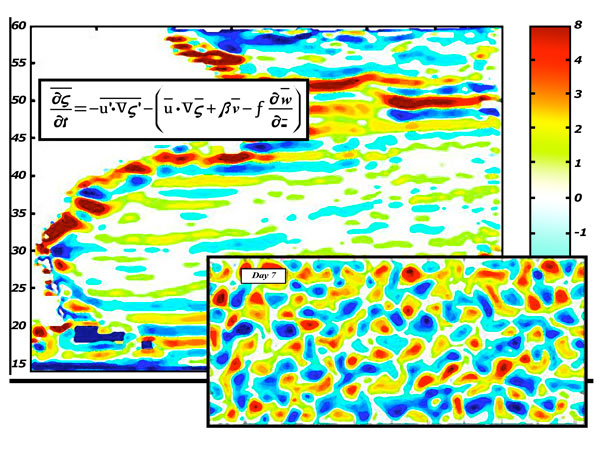 Role of Mesoscale Currents in Distribution of Properties

Oceanic advection and mixing influences the Earth's climate in several ways. Distribution of heat anomalies plays a critical role in the energy budget of the Earth system and in sea-level rise. Uptake, transport and storage of various components of the oceanic bio- and geo-chemical cycles, including anthropogenic carbon, effectively control the atmospheric concentrations of greenhouse gases. While the importance of large-scale circulation in distribution and air-sea exchanges of these quantities has been known for some time, the significance of mesoscale currents in these processes is only beginning to emerge. Our research explores the significance of mesoscale currents in these processes, using both highly idealized and most comprehensive numerical models of ocean circulation.